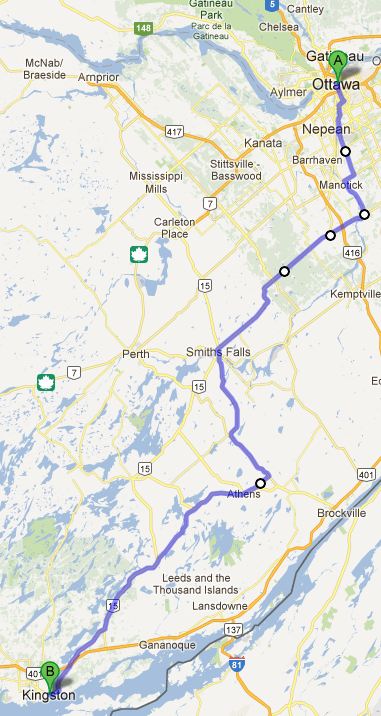 This is a trip that a lot of road bikers do. There are a dozen ways to get from Ottawa to Kingston on a road bike and they all take you through small picturesque towns.
Not a particularly tough trip is you go in a group of bikers where you can draft off your fellow riders, talk to them and speed along on your feather light, thin wheeled geared out road bike. When I did this trip, I was too naive to know the difference of of doing it my way and the right way. Chalk it up to being a 22 year old in a time when the road bike craze had not caught on yet.
Just one of many ways to get to Kingston via bikeI've always wanted to do a 200km ride on my mountain bike because I thought that would be a good challenge. I had almost done a trip of that distance a year earlier (New Liskeard – Timmins) but my father made me an offer I couldn't refuse on the particular weekend I was supposed to do the trip so I put it off until later (in retrospect, he probably didn't want me driving on the Trans-Canada highway with all the transports so he cooked up a tantalizing offer.
Well eventually the time came when I decided that I was going to do this trip. I planned to take some backroads down to Kingston on my steel framed, thick and knobby tired mountain bike. To remove any kind of crutch, I decided to go on my own so I wouldn't be able to draft off of someone else and thus I would have to fight the wind the whole way. Looking back on it, I don't think I had a choice, no one I knew at the time would have done this trip with me.
I departed from Ottawa at 5:00am and got off to a good start. I had to leave without my trusty sunglasses (they had broken two days prior) and figured thought that I wouldn't need them. I did the first 90km in 3 1/2 hours and though that the rest would be a breeze but I did not realize how hilly things got as you neared Kingston. I would be lying if I said I wasn't tempted to throw in the towel several but I pushed through it and made it to Kingston (200.3km in 9.5 hours – including my rest breaks). As I biked along the roads, time flew by and eventually my goal became making it to the next corner or over the next hill. I had brought a few powerbars (remember those pieces of leather?) and realized quickly that I need to scarf down food or I would bonk before I made it to my destination. As I neared Kingston, I even stopped at a greasy spoon and ordered a chicken burger and Gatorade.
By the time I got to Kingston, my eyes were full of grit (guess I did need those sunglasses) and if I stopped biking for more than 10 minutes to rest, my legs would start to cramp up. Going forward was my only option (or calling a friend and live with a lifetime of razzing). When I pulled into Kingston and hauled my bike up onto the doorstep, I had such a feeling of accomplishment and all of a sudden, everything that I had gone through over the 9.5 hours was completely worth it. I ended up getting a ride (as planned) back home after the weekend but for the remainder of the weekend, I could barely climb stairs as my body recovered. I had done the trip in late August and my desire to bike for the season was pretty much destroyed afterwards. Come the following spring, I was pretty eager to get back into it again though.
A trip highly recommended for the stubborn and for those who want to see some small Eastern Ontario towns while losing a couple of pounds.