Continuing with the annual tradition of "Insults In the Dark" (a week long buddy cottage getaway that started as a weekend camping thing), we had decided to rent a cottage about 45 minutes North West of Brockville. Half the adventure is seeing what kind of place we are going to get because cottage rentals are a bit like resumes. On paper, they look perfect but the reality doesn't always match up to the sales pitch.
The one thing I have to say about this cottage was that it had the best view out of any cottage we've been to. You are about a hundred feet up over the water and have a south facing view of the lake which was pretty freakin' spectacular.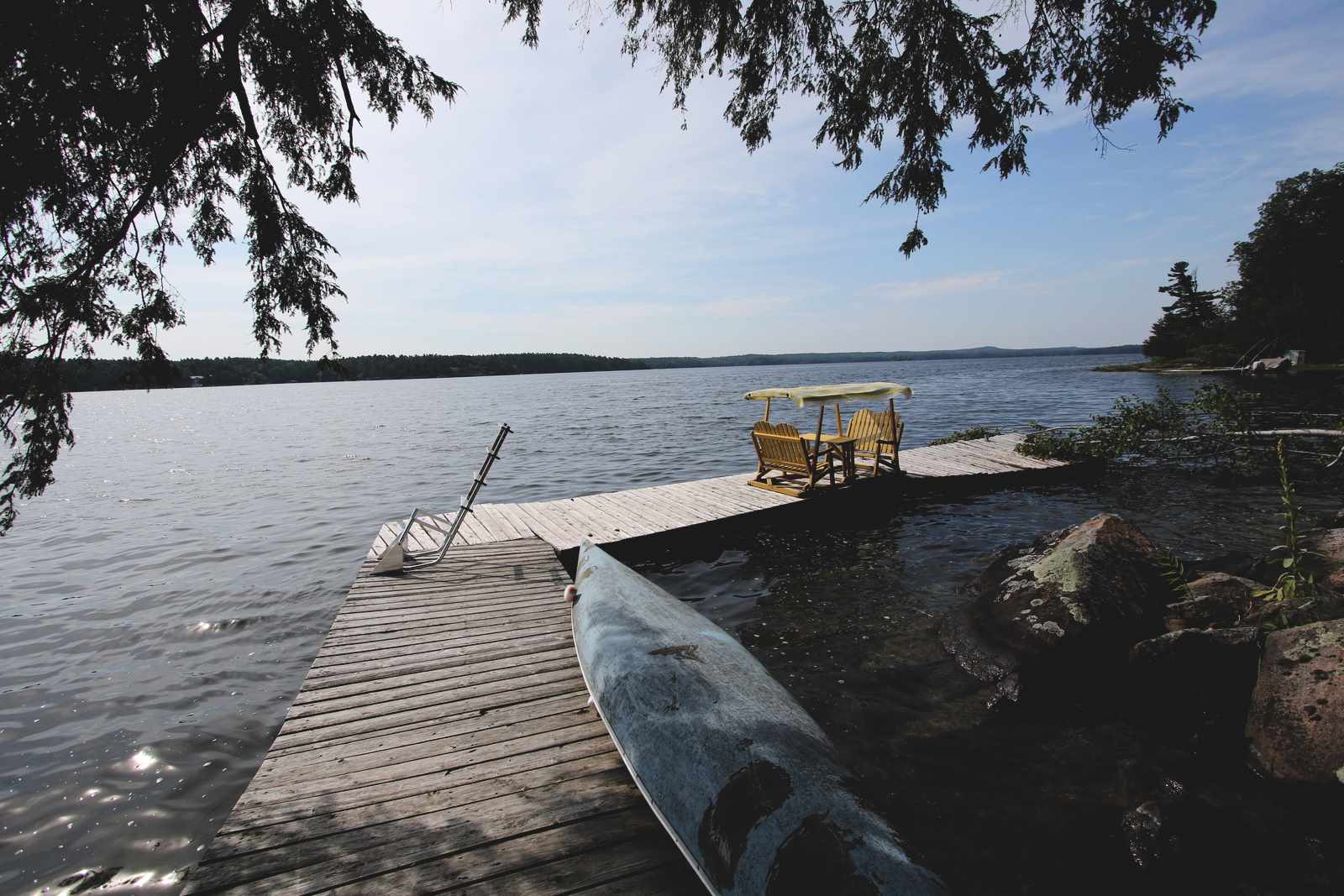 The participants / rogue's gallery for the 2015 IITD consisted of Jonathan, Joe, Kevin and myself. Chris graced us with his presence for a brief two day visit at the end of the week which was fun to have as it changes up the dynamic (well aside from him wanting the A/C turned off).
Located on Charleston Lake, this cottage had lots of promise as it had pretty much everything we typically look for in a cottage. That list used to be simple but as we grow older, it seems that the list changes / expands. No longer are we happy with just a bed, kitchen and a fan. Things like A/C, BBQ, access to water and internet access play an important role now. The days of all day board game playing are gone and we no longer go biking every day (mainly due to the fact that most of the cottages we have picked have poor access to biking trails).
Our time was quite enjoyable and everything was to our liking. Well almost everything. The hot tub had a constant layer of scum on it (despite someone dropping by to try and clean it up) so we didn't bother jumping into that. And that access to water? That was true but the beautiful view came with a price in the form of stairs that had 107 steps. It wasn't so bad going down but coming up was a good reminder that your lungs have limitations. You would make sure that you had everything with you when you went down to the water because return trips to grab that little something were not fun.
To sum up the week, we played a smattering of board games, ate some good food, biked a few trails, went to see a movie in Brockville, watched a Netflix series over several nights (called Knights of Sidona – painful for me to watch but enjoyable for others – you know who you are), did several outdoor activites and played some competitive couch games on the PS4. Jonathan introduced me to http://chiefobrienatwork.com/ which had us crying with laughter a few nights. It's a Next Generation thing. Poor Chief O'Brien.
Once again, we barely touched any alcohol but we dove into the chemical creations of Pepsico and Coca-Cola. We all took our turns cooking for each other and by the time it came to depart, we still had too much food in our coolers. You would think we would have this figured out by now.
We also did two quick outings to Charleston Lake Provincial Park and while the first hike was enjoyable (got the revisit the spot where I proposed to my wife), the second outing was not as enjoyable as we were swarmed by a dozens and dozens of deer flies. The last 25 minutes of the hike turned into a very fast walk indeed.
Booking the following year's cottage is part of our annual tradition as well. With all of us together, it makes things much easier. Plus it saves me what used to be hours of work coordinating schedules and finding the right cottage that meets everyone's expectations. So IITD 2016 is to be held near Perth, Ontario.