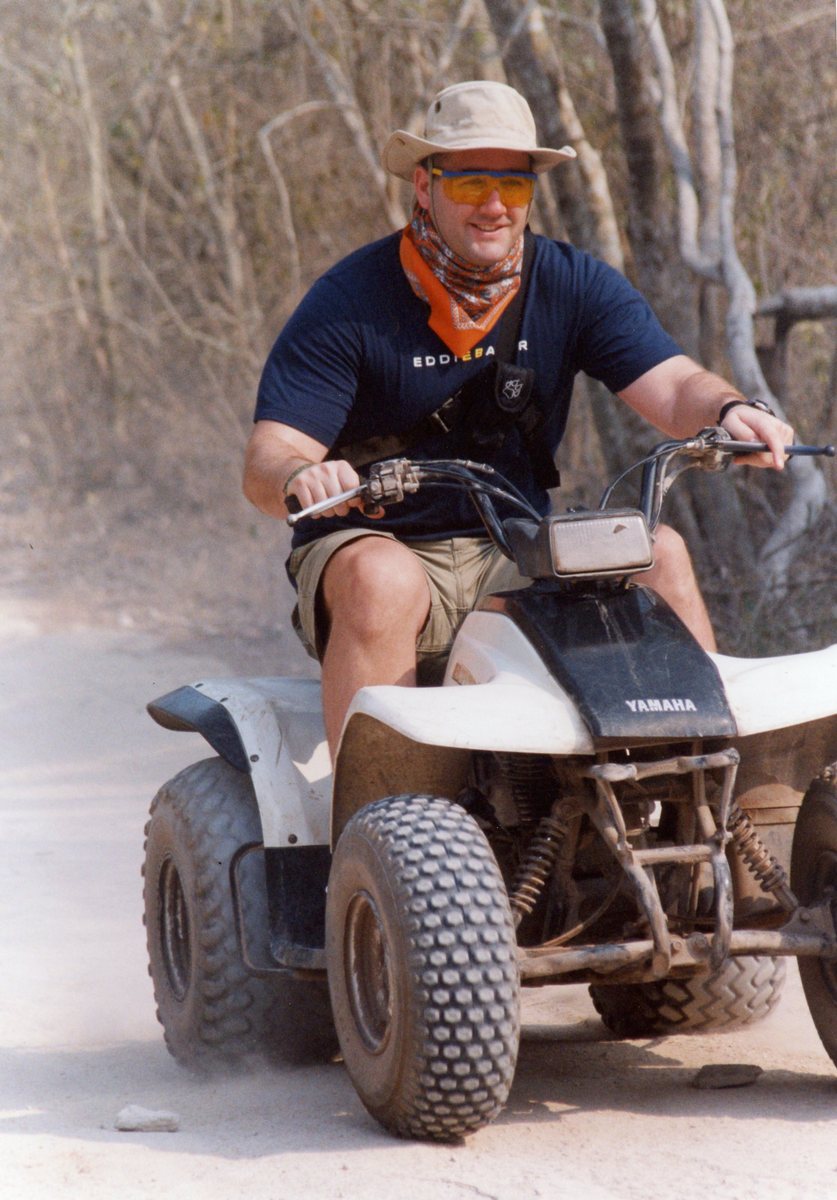 The year was 2005 and some friends of mine were getting married in Mexico around Feb and I was invited to join them for the nuptials. It was a fun trip and there were a lot of adventures had while we stayed on the resort, Barcelo Maya Colonial. After we were given the introduction to the resort and the activity people strolled out with their tables and sign up sheets, I sat down and signed up to do something every day while I was there (well except for the day of the wedding that is).
One of the activities that was listed was something I don't often get to do – ATV'ing. I grew up in the era of the injury prone three wheeler and as a result, I never got a chance to play around One of my brave yet foolish moments where I chose not to wear the bandana over my mouth with it. I was more a snow machine guy but I always wanted to play around on a quad bike. Now that I live in the city, well they tend to frown on people using an ATV to drive around the block and over peoples lawns (as tempting as it may be). Well as luck would have it, one of the activities that the resort was offering was just that: A ride through the Mexican wild on an ATV. A big portion of the group signed up for it (bride and groom included) and we forgot about it until the day we were supposed to go.
We all hopped onto a bus and off we went down the highway for a bit of time until we pulled off the road at some point. After a quick registration, we were given basic instructions on how to operate our machines and then a little sales pitch was thrown our way. The only thing you get for the ride is the machine and a pair of safety glasses. Nothing else. The lack of a helmet mad me feel like I was Karting up in Northern Quebec. The operator told us that it can get a little dusty on the trail so for a mere $5, we could purchase a bandana that we could use to cover our faces so we didn't have to inhale too much dust. I was one of the lucky ones because I did it without hesitation as I know what things are like on the trail – I truly felt sorry for those who chose not to buy one.
So off we went, my buddy Bennett and I jumped into the lead position behind the leader where we took our turns being out in front with the guy in third place. Even with the bandana, being 2nd or 3rd in line left a terrible grit in my mouth so I could only imagine what it was like for the person who was in position number 15 with no bandana. We drove over rocks, climbed steep hills and cruised over roots. It was about 1hm30m in length and we took a 30m break up at a Cenote (an open water pool that had spiritual meaning to the Mayans) where we took a quick swim. After watching some uncouth idiot tourist spit into the water, we were off again on the trail and we eventually went full circle and ended back up at the starting point.
At the end of the ride, I paid the extra money to buy some water as it felt I was suffering from cotton mouth. Smart guy that tour operator. I guess all-inclusive only pertains to the resort.