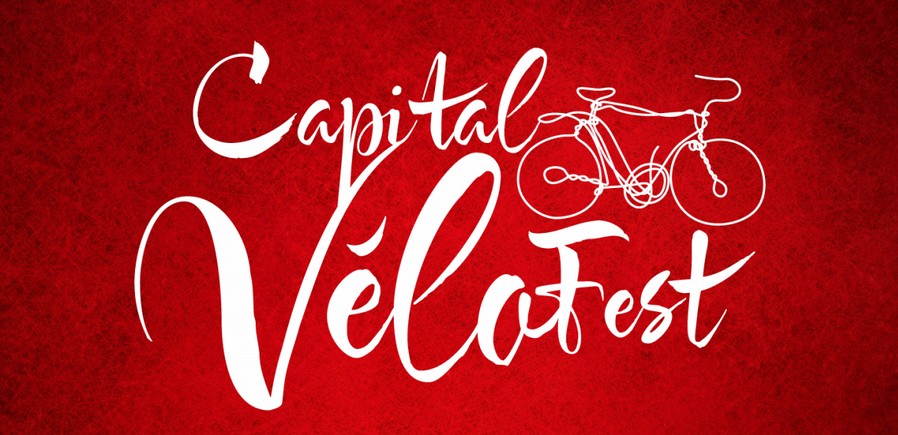 Last year (2014) was the inaugural year for the event known as "Tour La Nuit" which was hosted by Capital VeloFest. Unfortunately, I missed it but promised myself that I would not miss the next one. Tour la Nuit is an annual evening bike event which is used to promote the mission of Capital VeloFest which is to inspire and educate people of all ages about the joys and benefits of biking. It also happens to be a lot of fun. A live band, food, drinks and a whole lot of bikers come together for an event that lasts about 5-6 hours.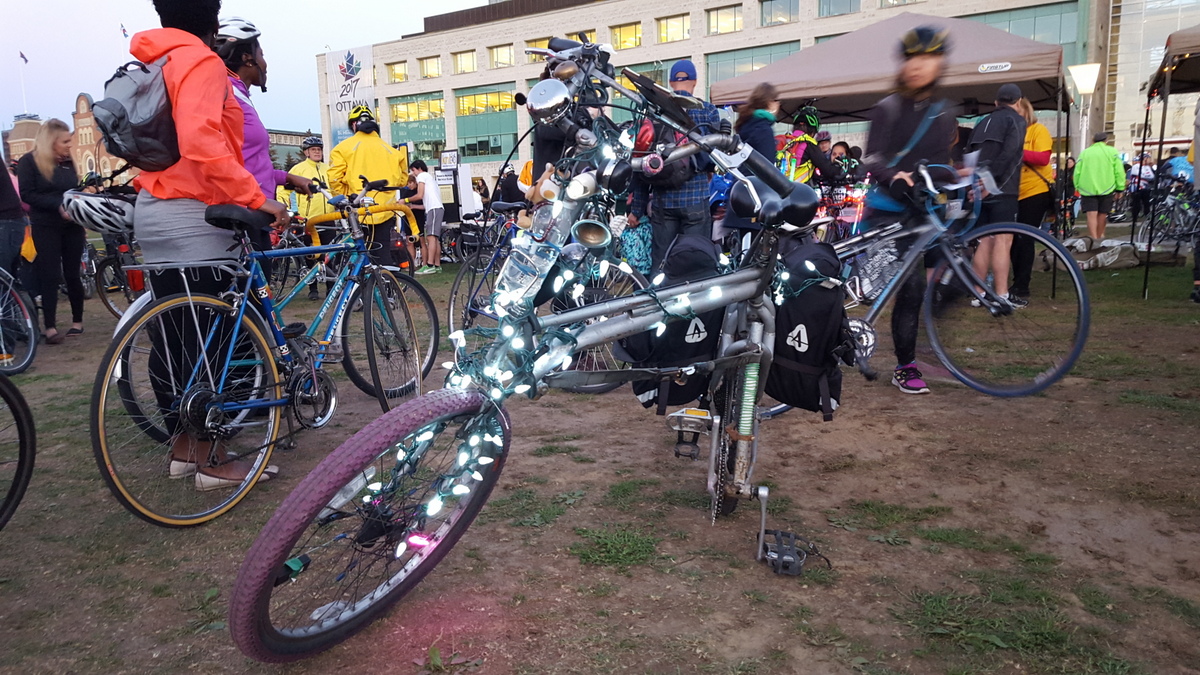 Touted as Ontario's only closed road night ride, I registered with a few friends of mine (Kevin and Emily) for a reasonable price of $15 per person. The three of us made our way down to city hall for about 7:00pm where we checked in, were given a free tire light and enjoyed some pre-ride music while we waited with the other 500ish people (ballpark figure) for the sunlight to take a hike. As soon as it was dark enough, the music ended and announcement was made telling us to head towards the start area to begin the ride. As we got underway, there was the usual bottleneck you would expect with a large number of people (of all ages and ability) all trying to go the same way. I was amazed that I saw no one wipe out over the entirety of the ride.
The ride begins
In preparation for the event, we were told to decorate our bikes with lights for fun (and safety). I took the fun part to heart and I ended up trying two things to achieve that goal. The first thing was a costume that lit up and I eventually came up with something pretty good (XL wire stickman costume). It didn't hurt that it was going to double as a Halloween costume. The second idea I had was to use some LED lights on my tires. After a bit of research, I finally found and settled on a product called the M232 Monkey Light. I ordered a set of of them and once they came in, it took me about an hour to attach both Monkey Lights to my wheels and it worked like a charm. It is essentially a computerized board of LEDs that light up in different colours and sequences that take shape when your tire spins. It's a very cool effect but was best seen when you are looking at the moving tire from a 90 degree angle (so those beside me go the best view).
I felt a bit dorky when we first showed up to the event as there was still a lot of daylight. There I stood, wearing all these wires along with a metal ring hanging around my face. I was hoping that it would all pan out and I'm glad that it did otherwise I would have looked like some poorly dressed Tron cosplayer.
The starting area was the top of Queen Elizabeth Drive and it was very slow at first. We gained speed as the bikers slowly divided into their natural positions/groups. Volunteers could be seen at every cross street to ensure that traffic would not pass the erected barriers and police officers were doing the same thing at intersections. We had the roads to ourselves. The evening air was a bit cool (10c) but the sky was clear of clouds. In other words, perfect night ride biking weather.
As we rode, I got separated from Kevin and Emily as there were lots of people on the road and it was hard to stay together. I started moving up when I saw open spots and eventually the pack thinned out enough to where I was able to freely move around on the road. As I moved in and out of the groups, I heard all sorts of comments about my wheels (kids in particular really liked it). I also found myself talking to a lot of different people which added to the open feel of the evening. As we neared the Experimental farm (the midway point), I was pleasantly surprised at how many families and young children were participating in the event.
Stickman is born
As we started to ride through the farm, I was quickly reminded that there were no street lights whatsoever. During my planning, I knew that my wheel lights were not sufficient to see in front of me but knew that the street lights would make up for the difference. Knowing this, I had neglected to put on forward facing light. As I rode through the dark on the farm, I ended up using the tail lights of the bikers ahead of me as guidance and also benefited from the other lights that the bikers were using. As I got close to the end of the farm, I figured it would be good to reunite with Kevin and Emily for the return ride downtown so I pulled over to the side of the road to wait for them. I turned off my wheel lights and stood there figuring I would get a few laughs out of my stickman costume.
That move turned out to be the highlight of my evening. With no other light source around, people quickly saw me and started laughing and cheering. At first I would just wave to them. I then started doing exaggerated movements and some cheesy dance moves which got kids and adults alike laughing even more. After about 10 minutes of this, Kevin and Emily called out my name as they rode by and pulled over to watch. I had the biggest grin on my face as I was doing what I love to do. Thinking back, it was the first time that I've felt normal and good about things since my father passed away 9 months ago. Kevin and Emily were good sports and hung out with me for another 10-15 minutes while the crowds went by shouting out various things. There were other enthusiastic cyclists as well who had put in a lot of effort to decorate their bikes (more so than I). Glow sticks, M232 Monkey Lights, EL Wire and even one individual who had a giant portable speaker that was belting out some trance music. I was asked many times what I was wearing and where I had bought it. It's too bad I don't get a referral bonus from the website I bought the EL wire from as I told about 10 people about it.
As the crowd thinned out, Kevin, Emily and I hopped on our bikes and we pushed to catch up with the main group. As we made our way back, I noticed a small four person band playing under the Bronson Bridge and they had lights all over them. I think they were playing some Jazz. I shouted out my appreciation as we passed by them and caught up with a large group of bikers. Zipping in and out of groups of cyclists, we made good time and were soon back to City Hall.
As we came in, we heard the live band playing again and the beer tent was happily being used. A local company called the Bicycle Craft Brewery was promoting their brews there that night and though tempted, we did not partake. Instead we stood around and did some people watching. Families trickled into from the ride, the band interacted with the crowd that had gathered in front of them and the beer tent was full of patrons enjoying a pint and some snacks. As we stood there, in the main square and talked about the ride, I had a few people come up and inquire about my costume. With the interest that was shown, I'm hoping that there will be a light show next year.
Wind down and final thoughts
We eventually got on our bikes and headed out to where we had parked our cars. As we traveled the streets, I got more than a few curious glances but finally decided to turn off the lights once the drunks started noticing me bit too much. Overall, it was a fantastic evening and the atmosphere that was in the air got me nostalgic for the days when I lived downtown. The vibe was very open, friendly and you could sense the feeling of community – it's hard to explain. The suburbs ,where I've lived for more than a decade, have all had great neighbourhoods. Helpful people, street potlucks and park BBQs come to mind but there is something different about downtown living and it was nice to get a taste of it again. Think I'm going to find some more downtown events to attend over the next few months.
I will definitely go back next year and try to recruit more people to come out. A big thanks to the organizers of the event.